Our Recipes
In the coming years, we plan to publish a cookbook with our delicious tried-and-tested recipes from the Wagner Panorama Hotel kitchen. Try a few of the following recipes – and let us know what you think!
CHESTNUT CREAM SOUP
INGREDIENTS:
50g butter
250g peeled chestnuts
30g spelt (non-wheat) flour
½ litre of vegetable bouillon
¼ litre cream
4 cL cognac
4 cL maple syrup
1 bunch of dill
PREPARATION:
Fry two-thirds of the peeled chestnuts in butter along with all of the spelt flour. Add the vegetable bouillon and cream, bring to a boil, then mix in the cognac and maple syrup for additional flavour. Divide the remaining chestnuts into quarters and add to the soup. Garnish with dill.
POTATO ROULADE WITH HOKKAIDO PUMPKIN
INGREDIENTS:
For the pumpkin:
1 kg Hokkaido pumpkin
1 onion
50g chopped ginger
½ litre of vegetable bouillon
62 mL (1/16 litre) whipping cream
Salt
For the potato roulade:
900g raw, floury potatoes (equivalent to about 600 g boiled potatoes)
200g spelt flour
50g butter
Spelt semolina (about 50g as required)
1 egg
salt
nutmeg
For the filling:
1 finely chopped onion
2 carrots
200g mushrooms or other fungi
1 bunch of parsley
50g butter
salt
ground cumin
PREPARATION:
Pumpkin Vegetables: Core the Hokkaido pumpkin and cut into cubes. Cut the onion into cubes and sauté until tender. Add pumpkin and chopped ginger. Add vegetable bouillon to infuse flavour along with whipping cream and season with salt.
Potato roulade: Soft boil potatoes, peel and press through a strainer while hot or cold – afterwards mix with butter, egg, salt, nutmeg and flour turn (but don't knead the mixture, otherwise it will be rubbery). If the potatoes are too moist, you can add semolina as needed. On some plastic wrap sprinkled with flour, roll out the dough to the thickness of a finger, and spread the filling on top. Roll up and seal the wrap ensuring it's waterproof.  Cook in lightly boiling water for approximately 20 minutes (depending on the thickness of the roll).
Filling: Sauté the finely chopped onion in butter until tender. Add the chopped mushrooms and finely diced, boiled carrots. Season with parsley, salt and ground cumin.
VEGETABLE PIE WITH PAPRIKA SAUCE
INGREDIENTS for 1 pie
(1 pie = approximately 12 pieces):
For the topfen/quark short crust pastry:
200g flour
100g butter
100g topfen/quark
1 teaspoon herb salt
For the filling:
100g onions
200g red pepper
250g leeks
130g mushrooms
2 eggs
1/8 litre whipping cream or sour cream
200g grated Emmentaler cheese
For the sauce:
ground paprika
olive oil
chili powder
PREPARATION:
Pastry: Mix all ingredients, knead quickly and let it sit in the refrigerator for 20 minutes. Pour the mixture into a spring-form pan and line it evenly, forming a 3cm high border. Puncture the base several times with a fork and pre-bake for about 10 minutes at 200°C.
Filling: Cut onion into rings and sauté in oil. Chop the leeks, peppers and mushrooms finely and sauté well. Season with herb salt, pepper, chili powder and paprika. Add the grated cheese. Pour the eggs, whipping cream or sour cream and remaining spices over the vegetables. Spread the vegetable mixture into the pre-baked pastry. Bake the whole pie in the oven for about 30 minutes at 180°C.
ARCTIC CHAR FILLET ON SPINACH-BASIL PUREE 
WITH RUCOLA, CARROTS AND PINE NUTS
INGREDIENTS:
4 pcs Arctic Char fillets
1 lemon
salt
a bit of flour
olive oil
For the spinach-basil puree:
1.2kg floury potatoes
100g spinach leaves
1/8 litre vegetable bouillon
¼ litre milk
50g butter
nutmeg
salt
1 tablespoon basil (chopped fresh or pickled in olive oil)
To garnish:
100g pine nuts
olive oil
1 large carrot
50g rucola
PREPARATION:
Arctic Char: Spice the Arctic Char fillets with salt and lemon spice, then roll in flour and fry in olive oil.
Spinach-basil puree: Wash the potatoes, peel, divide into quarters and boil in salted water until tender. Wash the spinach leaves and remove the stalks, then blanch and rinse with cold water, then puree with vegetable bouillon. Bring the milk, butter, nutmeg and salt to a boil and then add the potatoes, the spinach puree and lastly the basil.
Final steps: Arrange the rucola around the edge of the plates. Chop up the carrot, cook until al dente, and arrange it around the plates as desired. Prepare toasted pine nuts in olive oil. Serve prepared spinach-basil puree on individual plates, place the fillets on top and then finally sprinkle toasted pine nuts in olive oil.
VEGETABLE BROTH WITH PUMPKIN SEED DUMPLINGS
INGREDIENTS FOR PUMPKIN SEED DUMPLINGS 
(4 servings)
100g ground pumpkin seeds
1 egg
80g breadcrumbs
50g butter
salt
ground nutmeg
PREPARATION FOR PUMPKIN SEED DUMPLINGS
Whip the butter until fluffy, and then add the egg, pumpkin seeds and breadcrumbs, and season with salt and nutmeg. Simmer the dumplings in salted water for 10 – 15 minutes.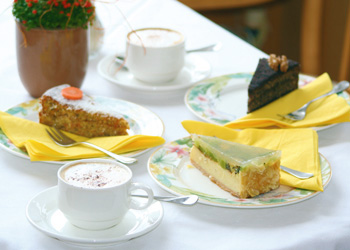 SPINACH SCHNITZEL ON CARROT SAUCE WITH STEAM POTATOES
INGREDIENTS: 
(4 servings)
400g fresh spinach (washed and without stems)
8 egg whites
4 tablespoons finely ground spelt flour
4 large carrots
4 medium potatoes
salt
garlic
ground pepper
chopped parsley
PREPARATION
Chop the fresh spinach and mix with egg whites, spelt flour, pepper, garlic and salt. Adjust the seasoning to your personal taste, then shape the schnitzels into 1cm thick pieces and fry lightly in olive oil. Peel and cook carrots, then mash fine. Peel and steam potatoes. Serve the finished schnitzels, and steamed potatoes. Add the finishing touches by sprinkling parsley and garnishing with the carrot puree.
BAKED TOPFEN-SEMOLINA PUDDING WITH FRUIT
INGREDIENTS 
(1 BAKING SHEET):
200g wheat semolina
100g crystallized raw sugar cane
700g topfen/quark
200g butter
6 eggs (separate yolks and whites)
2 kg apples
vanilla
lemon zest
ground cinnamon
PREPARATION:
Whip butter until fluffy, and then work in egg yolks, topfen/quark and semolina. Add vanilla, lemon zest and ground cinnamon. Whisk the egg whites with the sugar until stiff and fold into the mixture. Spread out half of the mixture on a baking sheet and cover it with the apples. Cover with the rest of the mixture. Bake in the oven at about 180°C for 45 minutes.
Tip: You can use different kinds of fruit instead of apples if you prefer.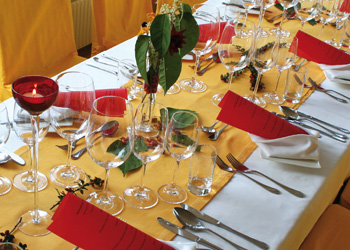 CHOCOLATE MOUSSE ON A FRUIT SAUCE
INGREDIENTS 
(4 servings):
3 eggs
2 tablespoons water
50g raw sugar cane
300g couverture chocolate
8 cL Mocha
3/8 litre creams
PREPARATION:
In a bowl above a stream of vapour/steam – mix the eggs, water and sugar until thick and fluffy, then remove from heat and beat cold. Warm the couverture chocolate and mocha, and work in the egg mixture and stir until smooth. Allow the mixture to cool. Take the already whipped cream fold into the mixture to complete the mousse. Cover with plastic wrap and refrigerate for about 2 hours. Serve mousse with a two heated soup spoons to create small dumplings (ie. submerge soup spoons in hot water prior to use).
Tip: For chocolate mousse we recommend the following wine: Muskat Ottonel "Töchterl", from an organic farm in Halbturn.