OUR NATURAL GARDEN
Our natural garden landscape invites relaxation. The hammocks are great for lounging, resting and for leaving the stressful "rat-race" of daily life behind. They form the heart of the natural garden.
VEHICLE PARKING
Arriving guests can leave their vehicles in our natural parking area, which is covered with gravel instead of asphalt. As a result, surface water does not require extensive surface drainage channels and basins, but instead naturally drains away – thus avoiding a disruption in the natural water cycle. Even here, our guests can notice our green philosophy, being surrounded by various types of shrubs and fruit trees.
THE DRY HABITAT – BUTTERFLY MEADOW
Our natural garden includes wild perennials and a variety of environmentally-protected plants, such as wild orchids. This natural habitat provides a home and food for butterflies and other insects. Scattered higher up in the trees are birdhouses, providing a home for the birds.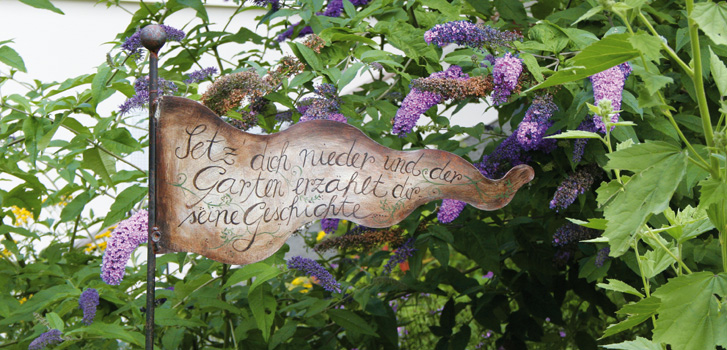 THE WET HABITAT – NATURAL POND
USED A PLUNGE POOL FOR THE SAUNA
Guests using the herbal steam room and sauna also have access to a unique plunge pool in the natural garden.  Since the pond is completely natural – including flora and fauna – this natural plunge pool is constantly supplied with fresh water, no artificial chemicals are used. An evergreen hedge acts as a natural privacy screen for the sauna area, which includes protected shrubs such as the European yew.
RAISED BEDS
The planting and arrangement of the raised beds throughout the natural garden are based on the principles of permaculture. Our guests will find a colourful variety of plants (fruits, vegetables, and flowers) which are also periodically put to use in the hotel in various ways. Strategically placed rocks in the raised beds provide thermal storage for the cool nights we experience at 1000m above sea level. With the exception of flower pots, planters, and new plantings, artificial irrigation has been avoided as much as possible. Mulch blankets keep the soil suitably moist and prevent drying.
CARE-FREE BODY & SOUL
WITH CHICO HAMMOCKS
The natural garden invites restfulness. The hammocks are great for lounging, resting and for leaving the stressful "rat-race" of daily life behind, as you're rocked gently into a state of relaxation. These original Company Chico hammocks form the heart of the garden and are produced in the Mühlviertel region of Upper Austria. Chico-products and many other natural products can be purchased in our Organic Shop "Basket".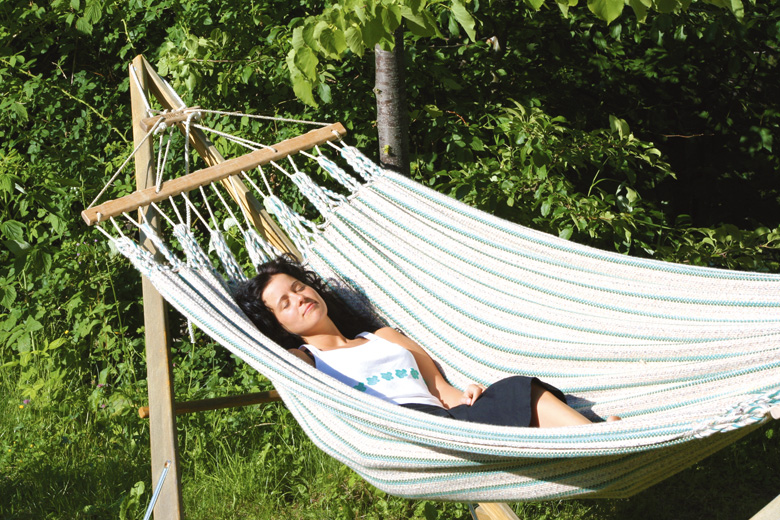 BIODEGRADABLE WASTE TO ORGANIC COMPOST
Food waste, kitchen waste, biodegradable waste, and flowers, etc. are composted in a suitable place hidden from view by some wild shrubs, in the vicinity of the vegetable planting beds. Year round, the waste can be composted – saving a considerable amount of trash disposal. In addition to frequent ventilation, plenty of additional compost material (like straw, wood chips, and leaves) is regularly added and thoroughly mixed to create natural fertilizer for the vegetable planting beds. Again and again, our guests can observe how we integrate with the natural cycles around us.
Harvesting Rainwater
Taking advantage of the hotel roof planes, rainwater is channeled into waiting barrels and used in the summer months for watering when necessary. Precious water is thus saved, and the guests are encouraged to follow suit.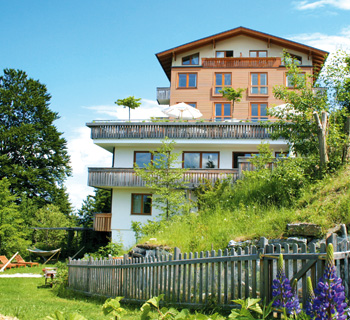 Permaculture
First coined by Australians Bill Mollison and David Holmgren, the expression "permaculture" today stands for "permanent culture", but originally referred to "permanent (agri) culture". It features primarily an interdisciplinary and solution-oriented approach to environmentally sustainable and functional design of living spaces. Plants and animals, people and structures, techniques and strategies, architecture and related technology are interwoven into intelligent systems.
Fundamentals of Permaculture
Any resource or site condition can be considered as a disadvantage – or an advantage – depending on if, and how they are used. As an example, strong winds can be viewed as a disadvantage for cultivating certain species of plants, but on the other hand, it could be possible to generate wind energy, or sensitive plants could be protected from the adverse effects of strong winds by planting robust species around their perimeter.
Permaculture is not necessarily energy or capital-intensive, but requires careful observation and creativity. The possibilities are not dependant on the size of the available land or the amount of resources, but instead on our ability to develop a variety of natural habitats that support natural and even human life.
Ten Golden Rules of Permaculture
The following 10 rules can serve as guidelines for designing according to permaculture principles: All elements of a system are interwoven
Each element performs multiple functions
Each important function is supported by several elements
Energy conservation in all areas
Use of natural resources
Collection and storage of renewable energy, closing natural cycles
Efficient and effective systems
Use and actively support natural processes
Diversity instead of uniformity
Take advantage of and promote the positive ripple effects of the natural habitats
Our projects were subsidized by the European Regional Development Fund (ERDF).